I have to admit that one day at work, I was day dreaming out of the window thinking about drums when I thought "It would be ace to have a snare of my own specifics, a ME signature snare". The only way I could acheive this is to have a snare drum custom made.
A text to Carl at Animal and then a phone conversation and Carl had no problem cornering what my requirements were. I wanted maple, and I wanted a 14" diameter with 7" depth and I wanted that retro-but-modern look to the snare, rather like an old model with a state of the art engine, if you know what I mean?
So lo and behold, what arrived, partially built as I wanted to complete the build and assemble myself, was this beauty............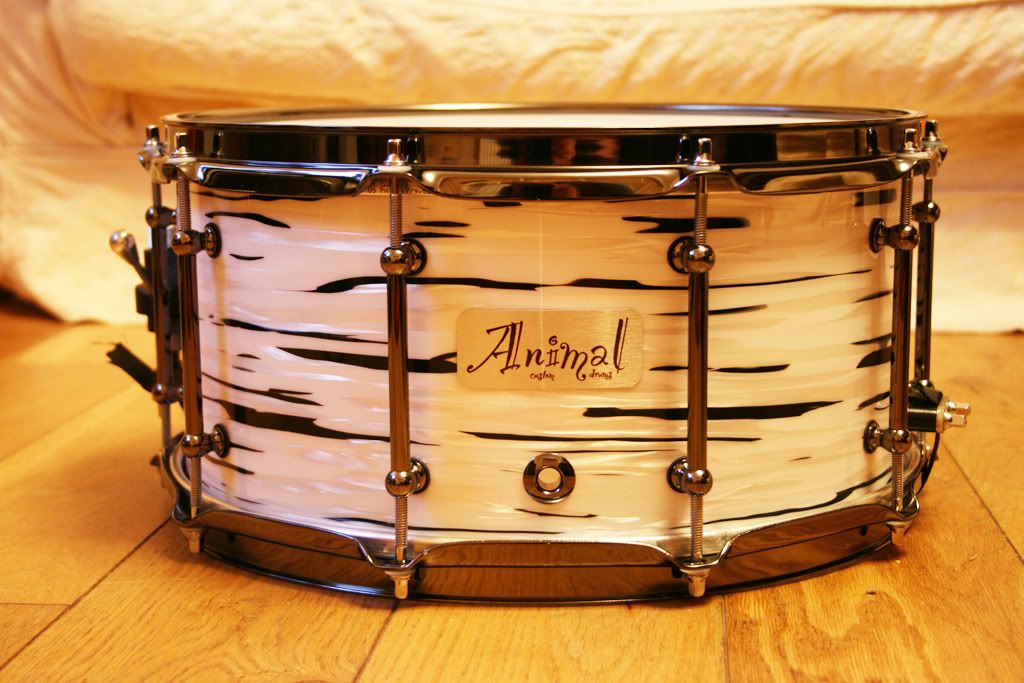 I loved this snare so much that I hinted to Carl that if he were to produce this spec as a mainstream Animal Snare that I would be happy to put my "Signature" on it, although the conversation was taken as banter and a bit of fun, I would seriously put my name to this snare if I could!
Specs
Shell - Wood (Maple) surrounded by a White Oyster Wrap
Hoops - Triple Flange (Black Nickel)
Lugs - Tube Lugs (Black Nickel)
Throw - Trick
Size - 14" x 7"
Heads
- Remo Ambassador Tom head (Batter) Evans Hazy 300 (Snare side)
Conclusion
- This snare is built to my own requirements by Carl and the crew at Animal Custom Drums, Carl knew what I wanted before I told him and thus there is no conclusion really other than AWESOME! This snare plays a huge part in my gigging "fleet". On one occasion she was back-up snare to one of my Edge snares and I must've placed the edge snare awkwardly on the stand and the stand pierced the snare-side head in the first song and I was unable to continue with the Edge and my "Signature Snare" took over the reigns perfectly, and I felt guilty that I used an Edge over this snare. A custom snare is not out of everyone's budget, seriously!!! Get one to your specs, not going silly and asking for a really exotic wood, but if you were to stick to the main roads of specification then you can get a seriously great snare like this one. The only downside with this snare, and its more a nit picking think, this is a serious rock snare, a pop-funk snare it is not, it doesn't have that funky ping, but then I wanted a rock snare and that is what I got!
Overall score
- 9.9 out of 10